Wow, summer has arrived! Do you have any summer bath routines? My clay and exfoliating soaps are getting the most use right now with the heat wave that arrived this week. How clay manages to be effective in soap when it only spends a short period of time on skin I don't know but my skin feels cleaner. Right now I'm using up the last of a bar of
Lemonade Lounger
from FuturePrimitive,
Swashbuckler
from Arcana, and
Punisher
and
Low Tide
from Bodygoodies, which has a sandy side for scrubbing feet. (I've never paid attention to my feet before but exfoliating with something wet and scrubby feels great!
Savor
makes a pumice foot scrub I recently picked up off a swap board and will be trying soon.)
My newest soaps are the
beer soaps
from Bodygoodies. There are five different soaps, which appear to be the same formula with different beers, additives (coffee, chocolate, buttermilk) and scents added. These are the first beer soaps I've used that smell like beer, or, actually, like hops. I love herbal scents and spend a lot of time sniffing these. For scent my favorite is the stout beer soap with oatmeal & valencia essential oil and it smells like the skin of an orange.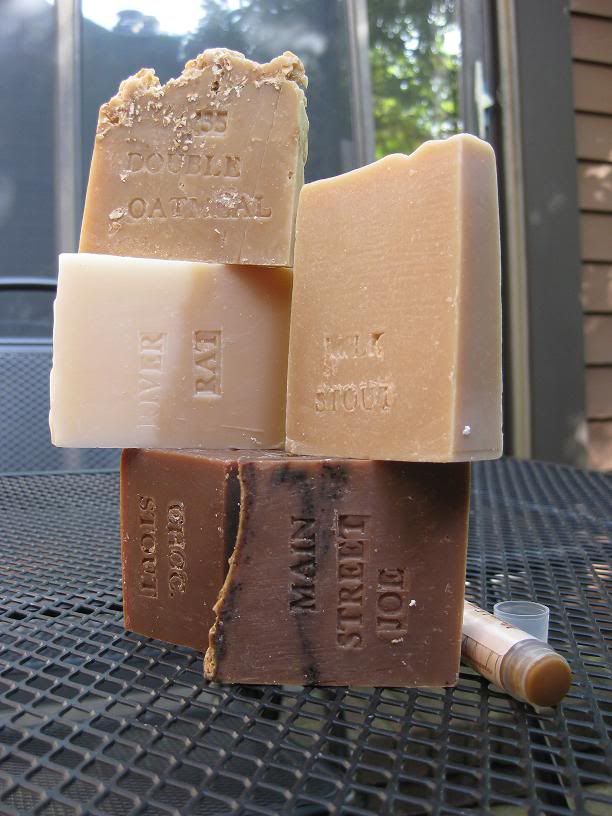 Next to the soaps is a vanilla lip balm from Mirasol Farm which smells really good too, like someone took vanilla extract and added just enough oil/butter to make it solid. Most of the bath and body products from Mirasol Farm are extremely highly scented. (For lemon fans their Lemon Chamomile soap is a standout for me. Here's a little overview from Andrea Badgley formerly of Sacred Suds that describes Mirasol Farm in
more detail
.)
The other soap I've been impressed with lately is from My Planet Earth. Kinda like the lip balm I mentioned, the soap "Winter I Freaking Hate You!" below feels like a stick of butter transformed into soap. This soap is on the softer side and I love soft soaps. I was watching a
video
from Celine of "I Am Handmade" talk about these soaps and "Winter..." was her favorite. (Ha, another funny
video
with the soapmaker, Mike, talking about this one and using glitter for the first time.)
The other goodies above are Solstice Scents Dead Sea bath salts, in
Crumbling Crypt
. This was from the last year's fall release but I just got it through the Solstice Scents forum swap page. This is strongly scented and complex --
Crumbling Crypt is an all natural blend of essential oils and absolutes including Virginia Cedarwood, Patchouli, Oakmoss Absolute, Spruce, Cypress, Amyris, Rosewood, Patchouli, Violet Leaf Absolute, Rosemary, Lavender, Vetiver, Marjoram and Himalayan Cedar. It smells very very dark, woodsy, earthy, dank, green and herbal.
This scent reminds me of a very lush forest, like in a scene from the Lord of the Rings. Mmmm, this is a grounding scent.
And the last is one of the conditioners I rotate between, a solid conditioner from
Get Lathered
in Patchouli Lovers (
an essential oil blend featuring patchouli, cardamom, fresh ginger, sandalwood, clove, and mandarin.
I also like the Harmony scent:
lavender, sweet orange, and patchouli with supporting notes of rosy ho wood, clove bud, black pepper, bright clary sage, and spicy cardamom
, which combined smell like orange juice with a bit of spice.) I wasn't sure if solid conditioners would have the oomph to handle my dry hair but I'm happy with these. Working it in can take time though, so I've started cutting slices and putting them in a jar with water so they become soft and feel more like a regular bottle conditioner.
Is there anything you like to use for the summer, or something new you've discovered that has become a favorite?